There are three ways to classify Items:
Merchandise
Packaging
Promotional Items
Most items are Merchandise, which is imported directly from your Shop and syncing. Packaging and Promotional Items don't need to be created in your Shop, since they are not directly sellable, and could be created manually.
Merchandise
Also known as sellable, merch, product, and goods. If an item is not Packaging or a Promotional Item, it's Merchandise.
If your merchandise is already packed in its own container and will not need extra packaging, you can mark it as such: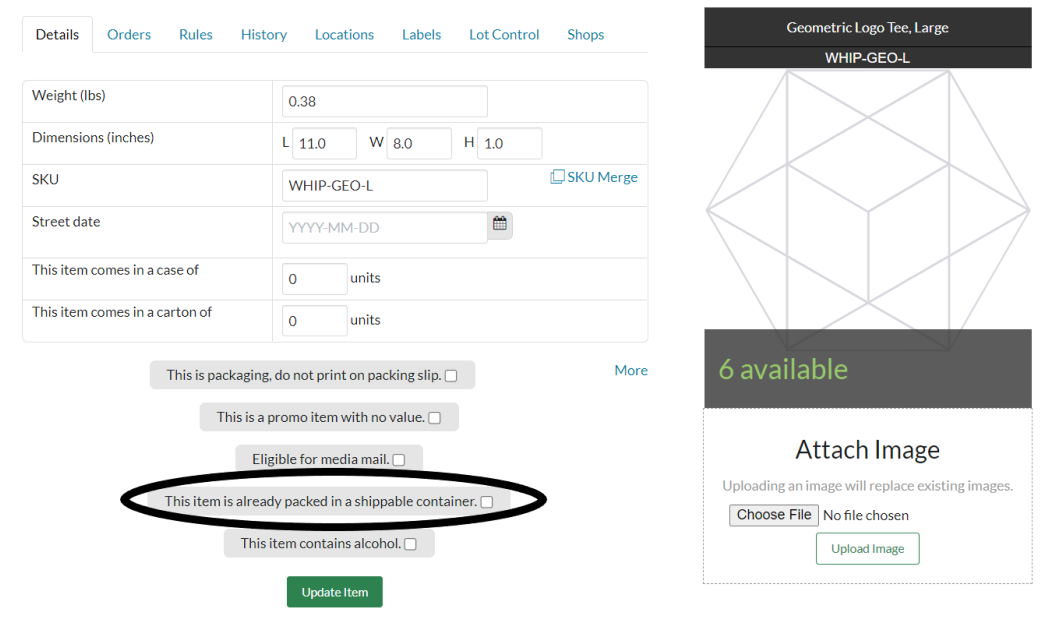 If your merchandise comes in case or carton quantities that can be shipped and received without being opened, you can indicate those values: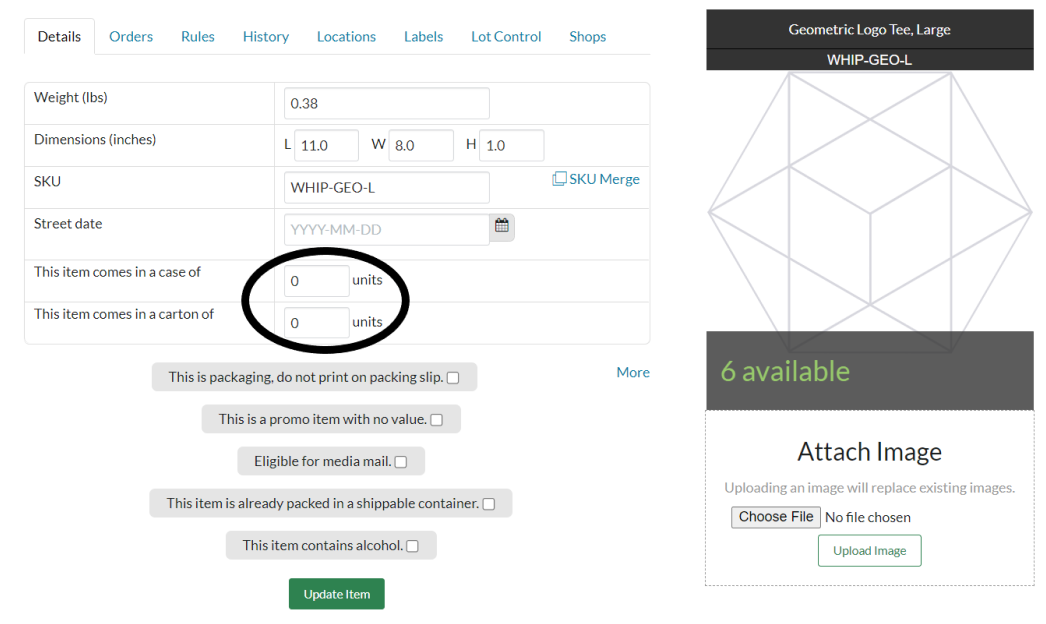 International shipments will not clear customs without price data. This value is inherited from Orders by default. Select "More" under the items "Details" tab to view the price.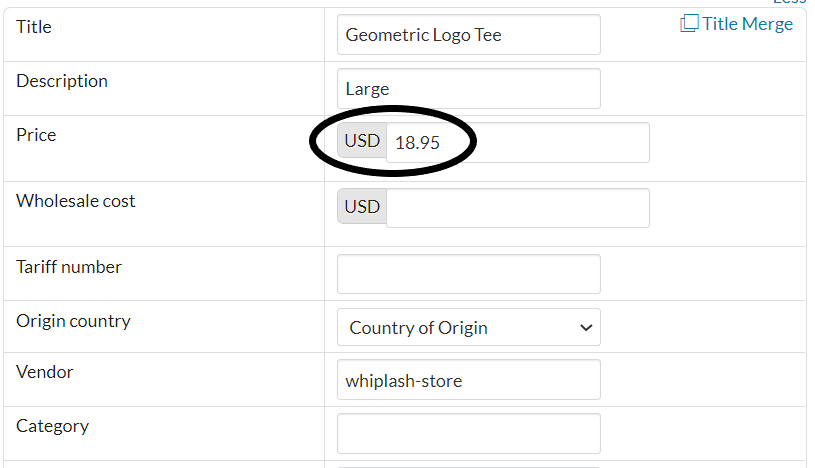 Packaging
This is the actual shipping container that your order will go out in. For carrier rate purposes, it is extremely important this is classified correctly. Each order should only have one packaging item unless there are multiple packages, each with their own shipping label, that need to be shipped. The packaging label is what finalizes an order and triggers the shipping label purchase and rate classification.
You can learn more about packaging here.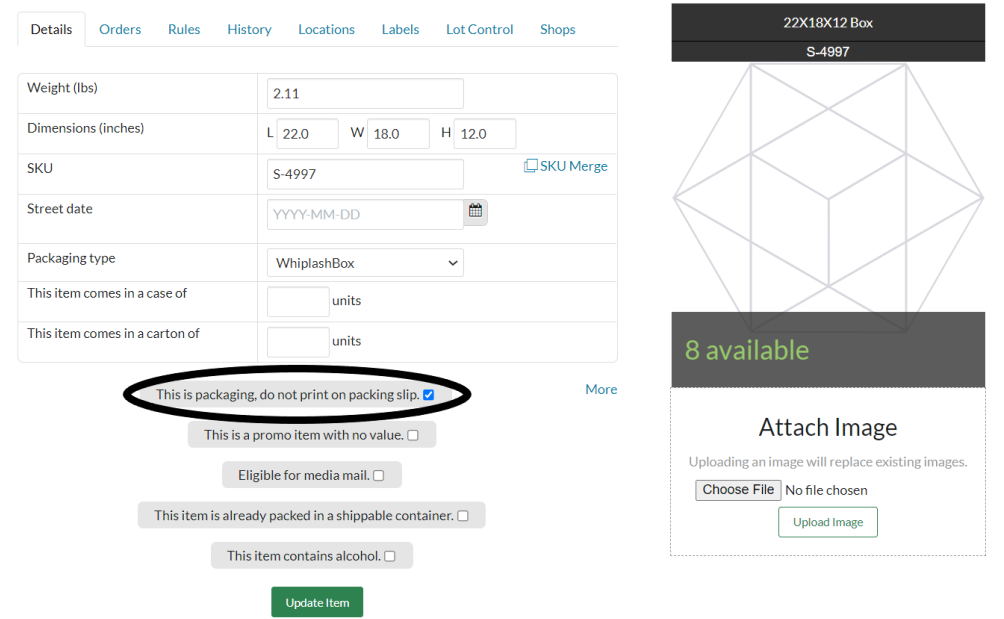 It is important to identify your packaging correctly under "Packaging type" to ensure proper carrier rates are applied, whether it be a box, polybag, or bubble mailer. Even a customer-owned box should receive the packaging type "WhiplashBox". Using carrier-specific box types will prevent Orders from shipping with other carriers.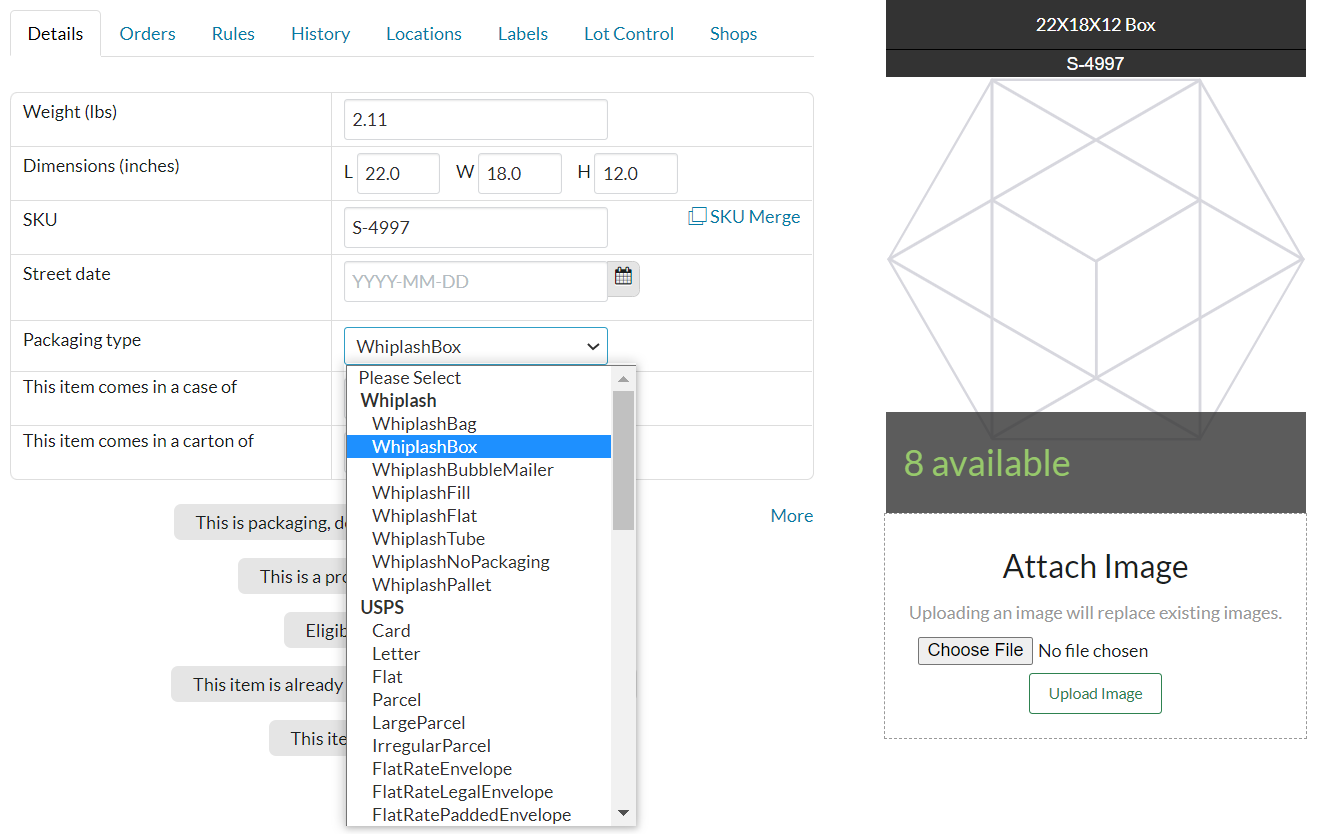 Filler/Dunnage/Inserts
If you have voidfill or padding/dunnage that is placed inside a package to protect the contents of the parcel, it is important to classify the Packaging Type of these materials as "WhiplashFill" from the "Packaging Type" selector.
When selecting this classification, the system will automatically apply a weight of 0.01lbs and disallow editing of that weight value. This is important as it is assumed that any filler/dunnage material is going to have a negligible weight and it prevents any potential weight discrepancies that might affect the parcel's reported outbound weight.
Examples of Filler/Dunnage/Insert materials include:
Crinkle Paper
Kraft Paper
Tissue
Peanuts
Newsprint
Geami/Die-Cut/Corrugated Paper
Bubble Wrap
Air Pillows
Promotional Items
Promo Items are throw-ins that have negligible weight and value, such as stickers or flyers, that you would like added to orders in certain circumstances. Insufficient inventory of promo items will not stop an order from shipping.
You can learn more about promotional items here.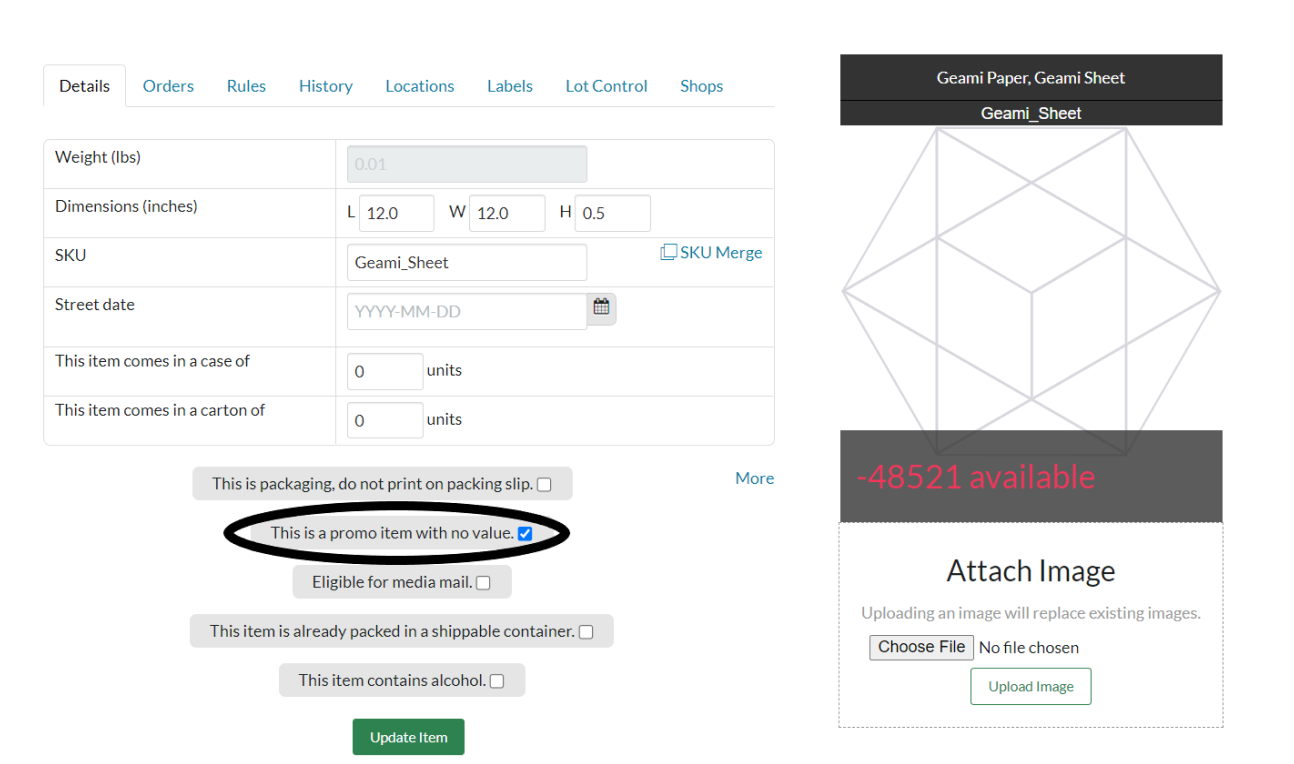 Related Questions:
What is Merchandise?
What is Packaging?
What are Promotional Items?