What is "DIM Weight"?
Dimensional Weight (DIM Weight) determines a package's density rather than just its weight and reflects the amount of space the package will occupy in transit, compared to its physical weight. Actual weight pricing is purely based on how many pounds the package weighs.​
For each shipment, carriers charge based on the dim weight or the actual weight, whichever is greater.

Note: The units are inches.
Calculating Dimensional Weight
DIM Weight is calculated by:​
Length x Width x Height of parcel*/DIMfactor​
Carriers set their own DIM Factors.

​

Higher DIM factors mean the calculated DIM W

eight will be lower and therefore be applied less

often.

​

Some carriers only charge DIM Weight packages

over 1 cubic foot or 1728 cubic inches.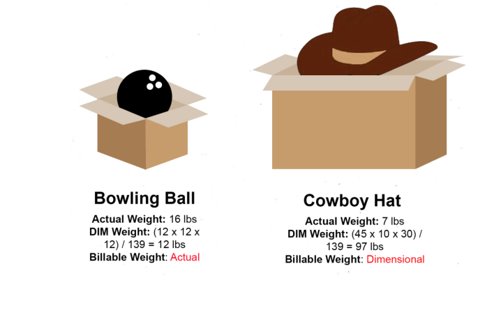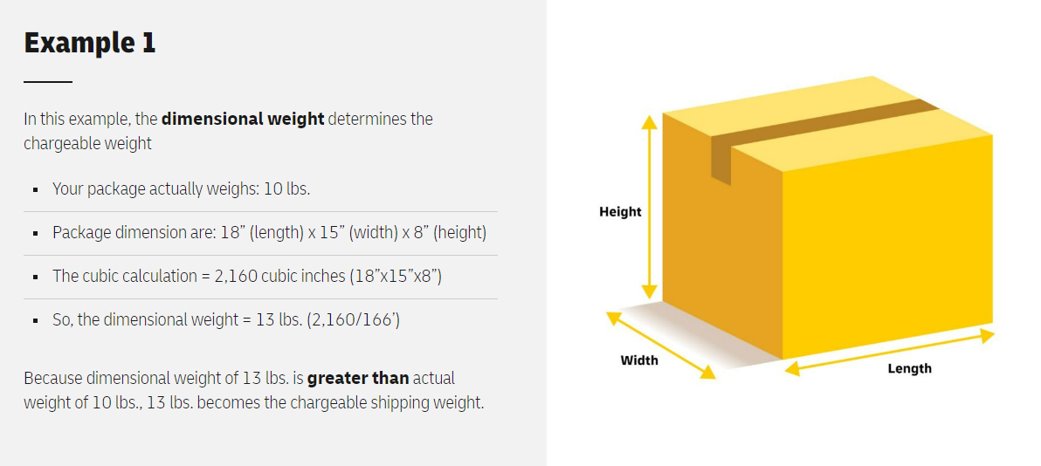 USPS: LxWxH/166
FedEx Ground (Includes Services Ground, Home Delivery, not including SmartPost): LxWxH/194
FedEx Express (Includes 2Day, 2Day AM, Express Saver, Priority Overnight, and Standard Overnight): LxWxH/225
FedEx SmartPost: LxWxH/139
UPS (All Services Except for SurePost): LxWxH/194
UPS SurePost: LxWxH/139
DHL: LxWxH/166


Domestic shipments under 1 cubic foot = 1728 cubic inches and/or under 1 pound are not subject
to Chargeable Weight rules and are invoiced based on the actual weight.
Dimensional Restrictions
Some methods prohibit parcels over a certain size or apply surcharges. Information about DHL's dimensional restrictions can be found here:
DHL SmartMail Parcel
Example
I have a package with 2 lbs. of actual weight in a 16 x 8 x 10" box.
Each carrier would rate the package as though it were 6–12lbs:
USPS: 7.7lbs
FedEx: 6.6lbs
FedEx Express: 5.68lbs
FedEx Smartpost: 9.2lbs
UPS: 6.6lbs
UPS SurePost: 9.2lbs
DHL: 7.7lbs
Minimizing Dimensional Weight Charges
Pack in the product in a container as small as possible while still maintaining the safety of the contents.

​

Reduce empty space in the container by choosing packaging to match the size and fragility

of the contents.

​

Use more padded mailers/polybags to reduce DIM Weight charges.

​

Utilize carriers with higher DIM factors.
Additional Resources

​
DHL​
USPS​
Related Questions:
What is DIM weight?
How do you calculate dimensional weight?
How do I minimize dimensional weight charges?