How do I know what damaged inventory I have?
Damaged units are visible from an item's Locations tab. Viewing total Damaged quantities is be possible via changes we released in September.
How do I get it out?
There's not yet a way for you to place an Order directly from Damaged stock, although that's on the way. For the time being, if you Pause an order, you can reach out to Support and we will batch it from Damaged stock manually.
What happens during receiving?
When receiving staff encounters a damaged item, they can select a type of damage from a list (see the table below). These reason codes appear on Ship Notice and Return exports, but do not affect how merchandise is stored. They are meant to be used for collecting data about the types of damaged most commonly associated with each SKU, supplier, and more.
What about "Defective" labels?
We are still adding "Defective" labels to items. This is what that looks like: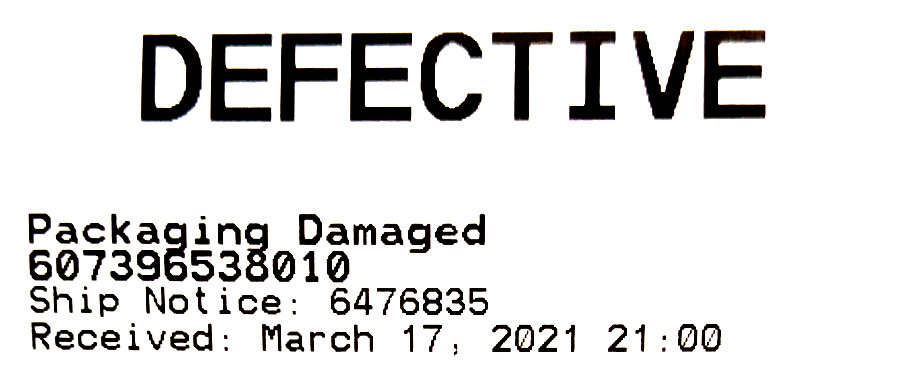 "Defective" label
Reason Codes
| Description | Code |
| --- | --- |
| Packaging Damaged | PACK |
| Discolored | COLR |
| Physically damaged | PHYS |
| Manufacturer error | MANU |
| Not functional | FUNC |
| Damaged by staff | STFF |
| Dirty | DRTY |
| Worn/Used | USED |
| Missing Parts | MISS |
| Odor | ODOR |
| Other | OTHR |