We can ship from any of our facilities to anywhere mail is delivered. Here are some steps to take to make sure you are successfully creating international orders:
Please read below about international order considerations and how to set yourself up for international shipping success. If you have any questions, please reach out to support@whiplash.com and we'd be happy to help!
Tariff Codes
For international shipments Harmonized Tariff Codes and Country of Origin are required for most international shipping methods (such as DHL) and are strongly recommended to help get your shipments through customs.
What are the tariff codes for my items?
Whiplash cannot provide you with Tariff codes. Find those here: https://hts.usitc.gov/
If you need additional assistance, please contact the Federal Trade Commission or the governing department in your country.
Where do I add these in Whiplash?

Each Item has a Details page, with a field for tariff codes, country of origin and other customs-related fields you may want to edit. You'll find these fields by clicking "More" below the Details tab Information and next to the image of your item as shown in the screenshot below.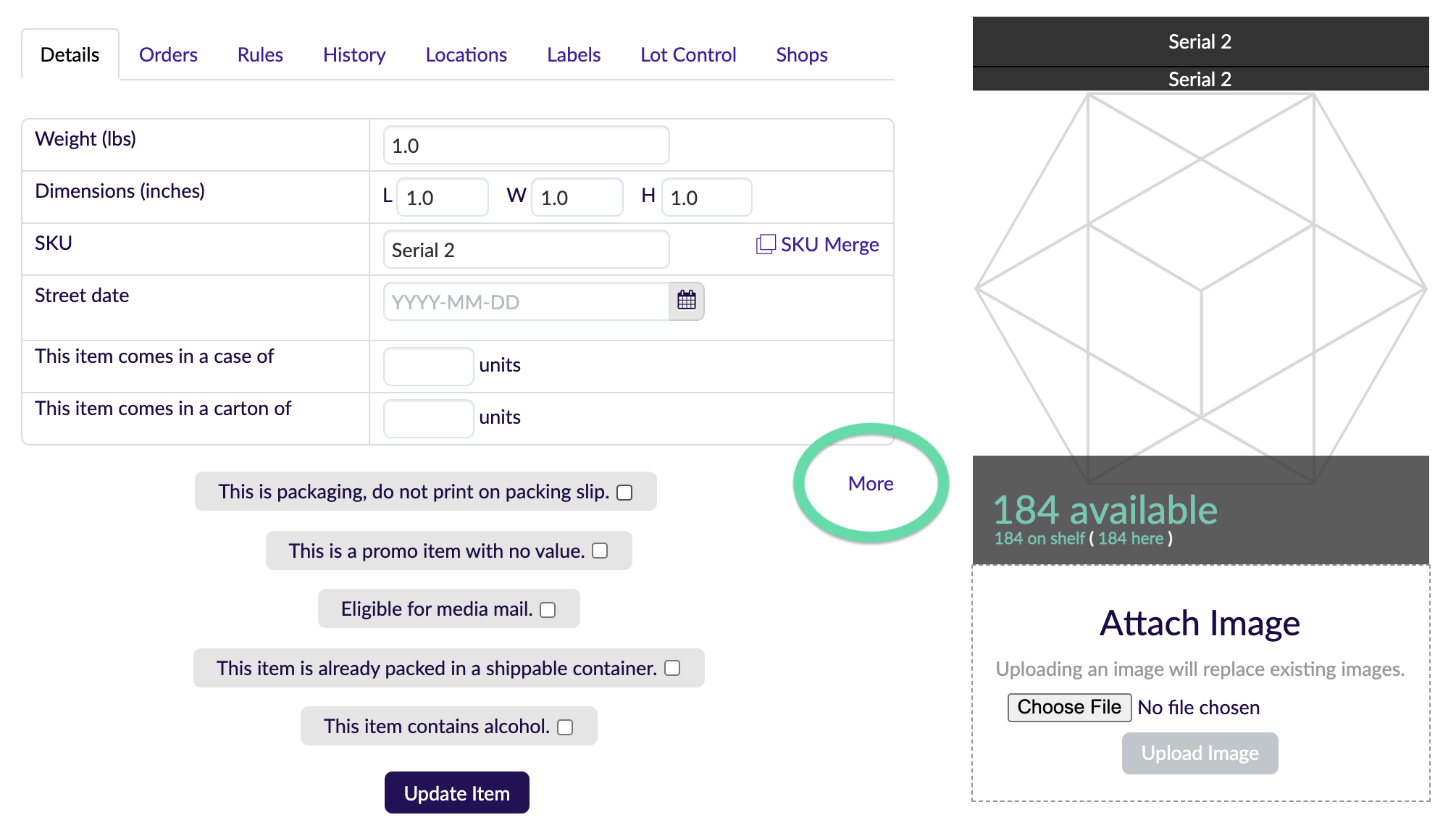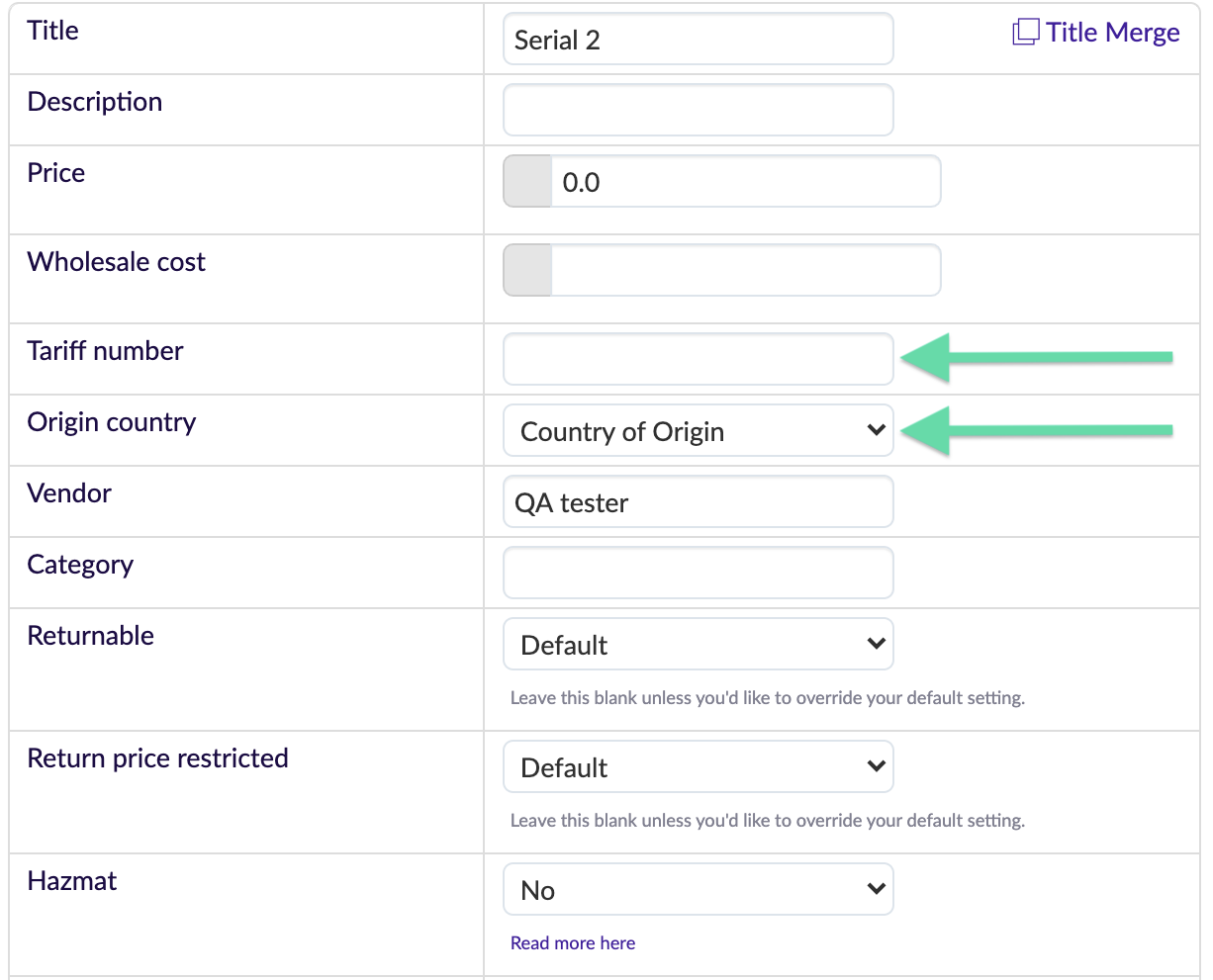 Tariff Code and Origin Country Fields found after clicking "More"
Bulk Action
These are also available as a Bulk Action from the Inventory view: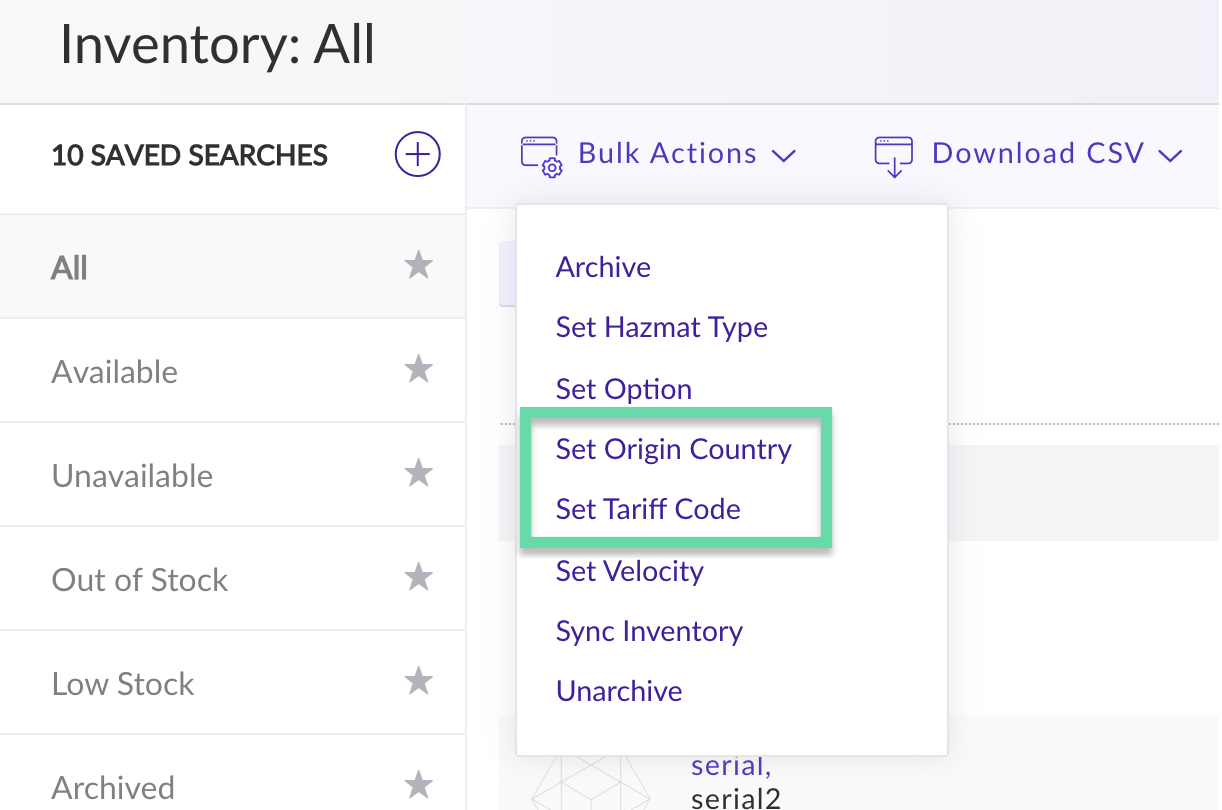 Tariff Code and Origin Country from "Bulk Action"
International Tracking Considerations
International USPS Shipping & USPS First Mile

USPS provides two tracking services which include international tracking to the destination. Both options are automatically included with eligible USPS shipments. Tracking information includes the date and time an article was delivered or if delivery was attempted but not completed, and the date and time of the delivery attempt.
DELCON INT
USPS First Class International, Priority Mail package, or Asendia to the countries listed below would include end tracking to most addresses in the countries below.
Australia, Belgium, Canada, Croatia, Cyprus, Estonia, Portugal, Finland, France, Germany, Great Britain and Northern Ireland, Greece, Hungary, Israel, Japan, Latvia, Lebanon, Lithuania, Malaysia, Malta, Netherlands, New Zealand, Norway, Poland, Singapore, Slovak Republic, Spain, Switzerland, Turkey
ECOMPRO
USPS Priority Mail International orders have additional destination end tracking capabilities and insurance included of up to $100.00. ECOMPRO is automatically applied to eligible shipments, for no extra cost. Those shipments with ECOMPRO are designated with a tracking number with an "H" prefix.
Countries serviced with end tracking to available addresses in addition to the list above:
Barbados, Belarus, Bhutan, Cape Verde, Djibouti, Georgia, Republic of Ghana, Jordan, Lithuania, Maldives, Moldova, Poland, South Africa, Switzerland, Vietnam
Common Uninsurable Destinations
A list of countries frequently blocked or excluded from many insurers includes:
Afghanistan, Angola, Belarus, Bolivia, Brazil ,Burma, Congo, Cuba, Iran, Iraq, Israel, Ivory Coast (Cote d'Ivoire), Liberia, Mexico (due to tracking/customs issues), Nigeria, North Korea, Paraguay, Russian Federation (private consumer sales orders are not permitted), Sierra Leone, Somalia, Sudan, Syria, Venezuela, Zimbabwe
Duties and Taxes
When selling/ordering overseas, the responsibility is entirely on both you the seller and your end customer to be aware of their own Government's regulations and the importing policy in the countries in which you are buying and selling.
Your end customer may/may not have to pay an import/duty tax for their international purchase based on the import regulations of their country. If you (the seller) or your customer are unsure of the import taxes in their country, we would recommend confirmation of this with their local customs agency before processing the order through our system. Whiplash takes no responsibility for any fees imposed by your end customers government upon the receipt of any goods sent OR for the import/export fees on return to sender packages. Please contact the carrier you have chosen directly for any questions with duties, taxes or fees imposed.
Please note that many shipments to retailers such as Amazon, require specific customs clearance from the Importer of Record (you). You can elect to use a brokerage service. Whiplash does not provide brokerage services and is not the Importer of Record for your shipments. Please make sure that you are researching any of your shipments to your retail partners and the regulations based on destination.
You also may need to register for VAT, for more information about VAT and EORI, please click here.
Brazil Customs Requirement
Effective January 1, 2020, Brazil Customs require the importer's Tax Identification Number* to be provided for all items containing goods sent to recipients in Brazil.
Customs is stating that it will not accept shipments not containing this number and that items missing this information are subject to return.
APC will continue to ship all packages en–route to Brazil normally, with or without the recipient Tax ID number included but recommends that you begin gathering the required information from your Brazilian recipients to minimize any potential returns due to the Tax ID number not be included on the address label.
*Note: In Brazil, the importer's Tax ID Number is known as CPF (format: 000.000.000-00) for natural persons and CNPJ (format: 00.000.000/0000-00) for legal persons
Russia Requirements
Due to customs issues in Russia, parcels can only be sent to registered business addresses and must be for commercial purposes. You cannot send any shipments to a private residence. Shipments addressed to this destination are returned automatically by the carrier if inspected before leaving the US, Those that make it to customs in Russia are destroyed. We are unable to refund postage for confiscated packages. In the event of a return, you will be charged for both the initial shipment and normal return fees.
We strongly suggest that you create a rule on your account to pause all incoming orders to this destination in order for you to review and release them if you feel they are shippable.
Creating a Separate Shopify Store
Should I set up a separate international Shopify store?
You can make a separate UK/EU store and integrate both, but there are some pros and cons of keeping just one.
Benefits of a single shop
Keeping one website simplifies things from a development and marketing perspective.
Benefits of multiple shops
You can easily display controlled prices to your customers in a familiar currency and language. Avoid shipping across the ocean—Shopify does not allow you to display separate inventory levels for the same item in different locations. If you run out of stock in the UK but still have 100 pieces in the US, your customers will see an in-stock item and be able to order. With multiple shops, you can track inventory separately.
Some of our customers choose to only enable specific countries such in Shopify such as the US, Canada and UK and modify the "no shipping rate" message to say something like "Contact us for a customized shipping quote".
This allows them to offer rates for 99% of their orders but still catch any extra one-off sales. Outside North America many customers' addresses won't work with AVS verification—approaching edge cases manually can gives another opportunity to get to know your international customers a bit better.