Standard Packaging
With Whiplash, the way your inventory ships is entirely under your control. You can choose to supply your own packaging, but most of our customers use standard boxes and mailers, specifying how we pack their items.
Default Behavior
Your inventory is assessed upon arrival. We'll use our experience and judgment to order the proper shipping materials and ensure your products are properly cushioned. We use unbranded, blank kraft boxes and will be invisible to your customers unless you brag about us.
When we purchase a shipping label, we report the dimensions of the package as follows:
Boxes, parcels, and tubes

use their outer dimensions.

Bags, paks, and "no packaging"

use the dimensions of the contents.

Bubble mailers, envelopes, and flats

have fixed Length and Width, but the Height (thickness) can expand to fit multiple items.
Upgraded Standard Packaging
Let us know if a specific package from the ULINE catalog would be perfect for your products and we'll talk about keeping it in stock along with making sure it is suggested for qualifying orders. For example, "any order containing these 3 SKUs of plush slippers should go in a gold bubble mailer."
Music
Don't stress about your LPs arriving with dented corners—we've got it covered.
Custom Packaging
For branding purposes, some customers prefer to use custom packaging. This can also save dramatically on shipping costs. Packaging that snugly fits a product will ensure you're paying the cheapest possible postage.
We use ARKA ourselves for many of our non-branded packaging needs. Our customers have had a lot of success with them for branded items. Phillip@arka.com is a sales contact we are familiar with.
Common Questions
Are there any charges for this service?
There are no extra fees for using custom packaging. Custom packaging is, however, subject to appropriate storage fees.
What if there are constituent parts of a packing box—or multiple steps? e.g. tissue paper, etc?
Packing materials—things like a custom box, tissue, or bubble wrap—are free of charge to include.
Additional items like stickers, stamps, and miscellaneous inserts are charged as promo items at $0.25 per item.
Is stock accounted for these items?
Yes—Ship Notices are created for custom packaging and it is treated like a standard item, however it is not tracked in app per usage as these items can vary and are not barcoded.
Does custom packaging need to be barcoded?
No. If it doesn't have a scancode we'll assign one so we can keep track of which packaging we're using to ship your orders.
Do you do gift wrapping?
Currently, no.
Setting Up Custom Packaging in the App
Create a packaging item, then under the "Details" tab, click the "This is packaging, do not print on packing slip" checkbox.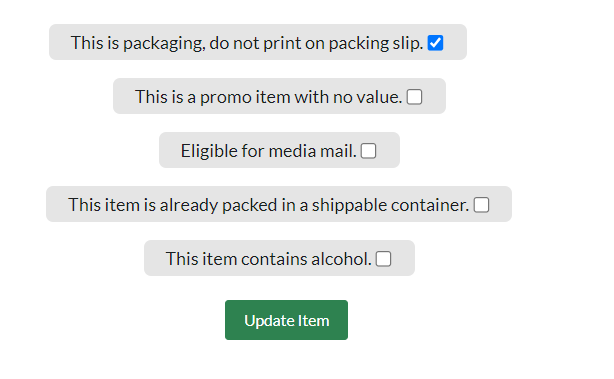 Let us know and we'll create an Order Rule, adding the packaging you specify to qualifying orders (e.g. customers ordering a Limited Edition Box Set get a fancy custom box).


Related Questions:
What are my packaging choices?
How do I set up custom packaging?