Every time you send inventory to one of our facilities, you'll create a Ship Notice. The Ship Notice gives us a heads up that your inventory is on the way and outlines exactly what items and quantities to expect. When the shipment arrives, we'll count in your items against your list and send you a report showing exactly what was received.
When you create a Ship Notice, you will be provided with a unique Ship Notice ID Number. That Number should be attached to the cartons of your incoming shipment to prevent delays in receiving. When creating the ship notice, always include the tracking number(s).
Ship Notices can be created and tracked by choosing Ship Notices in the top navigation bar:

Read more about how to prepare items for shipment.
Important Things to Note
Facilities have 24 business hours to mark a ship notice as Arrived. Once Arrived, shipments take an average of 2–3 business days to process. If a shipment contains a large number of different SKUs or variants, receiving can take longer. Reach out to support@whiplash.com for time estimates on large shipments.
Items must exist in Whiplash to be on a Ship Notice and received. In most cases, Items are created automatically through a Shop Integration. Directions for creating Items manually, which you can do for anything that isn't for sale in your Shop, such as packaging or promotional items, can be found here. 
For items that arrive as part of a shipment but are not included in the original Ship Notice, the facility will create a new, "Unexpected Delivery" Ship Notice and fill in the "Whiplash Notes" within that Ship Notice to detail what items need to be added, including their counts. The SN number for the Unexpected Ship Notice will be included on the original SN for reference.
Additional processing charges may be needed if inventory arrives in mixed cartons, or is not properly labeled. Please email support@whiplash.com for any questions. 
Note: Shipment times vary during Q4. Please see our annual Holiday Prep Guide for more information. 
International Shipments
You are responsible for getting your inventory to us with duties paid and customs cleared. Also, Whiplash cannot be listed as the "Importer of Record".
Purchase Order Number (PO#)
This is an optional field that can help identify and track incoming shipments. PO numbers can be used in Search filters, added anywhere Ship Notices are created, and appear in exports.
A Ship Notice can contain items from multiple Purchase Orders. Each Item can have its own Purchase Order Number.
If the same item is present in multiple Purchase Orders, it will be kept separate by PO# and can be received independently.
The "Notes" Field
After creating a Ship Notice, click "Add Note" to enter particulars about the shipment. This can include details such as product nuances, specific details to keep an eye out for, or comments in general about the delivery. 
Alternatively, the receiving team might enter a "Warehouse Note" to relay details about the state of the products being delivered. Information about damages to the shipment as a whole will appear here, with photos.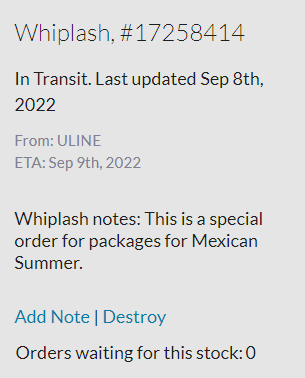 Related Questions:
What is a Ship Notice?
How do I create a Ship Notice?
How do I track a Ship Notice?
What is a Purchase Order Number (PO#)?
Where can I add details about a shipment?
Where can I find notes regarding damages to a shipment?